Discover more from Lost Laksa
Asian dad navigating family life in and exploring Germany with a two-year old.
The story so far (and going further beyond)
Hallo! I'm Bryan Lee, author of this blog, originally from Singapore and now based in Düsseldorf, Germany. I started this blog in the summer of 2023 when I left my previous job to take a short break and spend more time with my growing-up-faster-than-my-eyes-can-blink two-year-old baby boy.
There are not too many resources online about places or activities in Germany that are family-oriented and child-friendly, safe for the already very well-known ones that virtually all top travel websites have written about. Through friends, locals, and a bit more research, I've gotten to learn about more interesting places scattered throughout the country that are still great even with a toddler that are less well-known. This blog is me documenting down some of these places that I've explored and hopefully you'll also like them and get some new ideas to bring your loved ones to.
The journey up to now
We have been living in Germany for about five years at the time of writing this in 2023, but we have not always been in Düsseldorf. In fact, we moved to Düsseldorf only recently in the beginning of 2023 from Berlin.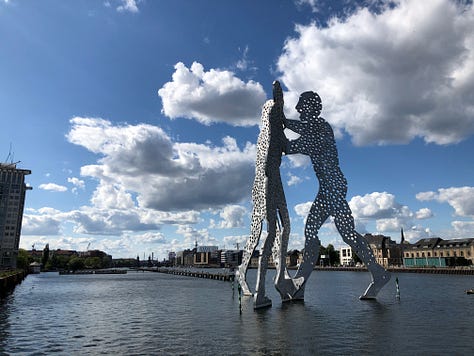 While much smaller than Berlin, Düsseldorf still packs quite a fair amount of activities and sights for its size. However, after leaving my job in the summer of 2023, with a lot more free time on hand, we found ourselves gravitating towards exploring the outskirts of Düsseldorf and the surrounding Ruhr area, away from the busy hustle of city life.
There isn't a lot of information about family-oriented travel ideas outside of the well-known ones in the city and from a resident's and not tourists's perspective, which has led to me starting this blog to document our exploration down, in hopes of someone else finding it useful one day. Hopefully, that would be you reading this.
Going beyond
We really enjoy living in Düsseldorf so far and see ourselves being here for the foreseeable future. As we get to know the city and the surrounding region better, I will be documenting down our exploration here, especially from the perspective of travelling with a small child.
As child- and family-friendly Germany is in general, navigating parental life here can still be challenging, especially as we are foreigners with a language barrier and different cultural and societal backgrounds. Where relevant, I'll also cover such topics as we come across them, especially if they might be helpful for someone else with a similar background in the future.
This is going to be free for now, and even if it goes paid one day, I would still want to have a good portion of the content free. Hence, I hope you subscribe and join me on the journey.