Discover more from Lost Laksa
Asian dad navigating family life in and exploring Germany with a two-year old.
Fairytale neighbourhood of Gräfrath in Solingen
Gräfrath is a historic neighbourhood in Solingen, a small city about 25km east of Düsseldorf with a population of just about 160,000. One of our good friends was visiting from Berlin, and having never been to a small town in Germany before, we decided to bring her on a half-day trip to this fairytale-like neighbourhood.
Certain districts of neighbouring Cologne were historically part of the Bergisches Land, but they no longer identify themselves as such anymore. The people of Solingen still do, and this is very evident in Gräfrath, where you can see traditional Bergisches architecture almost everywhere.
Thanks for reading Lost Laksa! Subscribe for free to receive new posts and support my work.
These types of traditional houses are called Berg houses, and you can easily recognise them by their green window shutters (Schlagläde), the timber frames, and the grey-black slate facades.
We were there on a Thursday late morning and it was not crowded at all, save for a few locals going about their daily business and the occasional traveller (like us). It was really pleasant to stroll through the neighbourhood and take in the sights of all the picturesque houses.
Getting to Gräfrath, Solingen
Gräfrath is relatively accessible from Düsseldorf via public transport. You will need to take the RE13, RE4, or S8 to Wuppertal Vohwinkel, transfer to bus 683, and then alight at the Deutsches Klingenmuseum stop. The market square is just about 150m away. The entire journey would take around 40 minutes.
Alternatively, if you are driving there like we did, you can take the A46 towards the direction of Köln/Wuppertal. The drive is around 30 minutes.
Parking space will be pretty limited closer to the market square so it is highly recommended to park a little outside where parking space is a lot more ample. We parked along Zwinglistraße and took a five minute walk to the square.
Lunch at Kaffeehaus Solingen
Kaffeehaus Solingen was the only place when we reached around noon. Nevertheless, we were not disappointed at all by their food.
Directly at the market square below the church, we took the outside seats and had a delicious lunch accompanied by a picturesque view of the surrounding pretty shops and houses.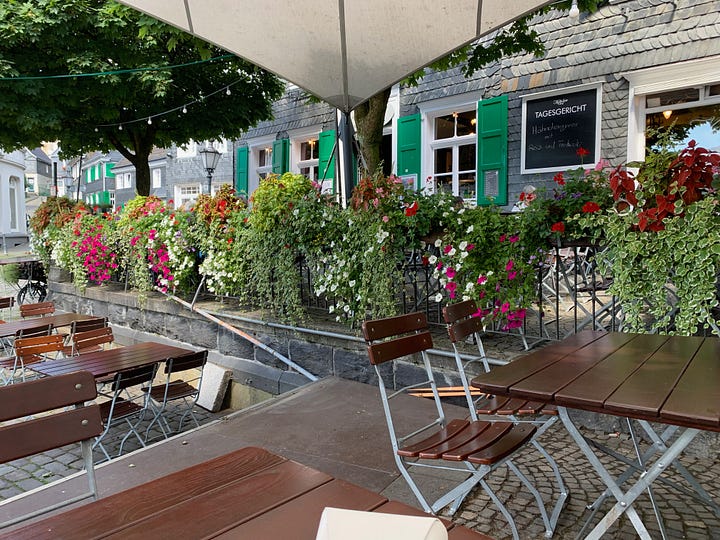 Unfortunately they did not serve Babycinno much to the disappointment of our two-year old who really loves it. It was however not a big deal at all as we had brought along a packet of milk for him.
Exploring Gräfrath
After lunch, we walked up the steps from the square to the Catholic Church of St. Mary of the Assumption. While we weren't able to go into the church, the balcony at the top offered us an amazing view of the beautiful market square below.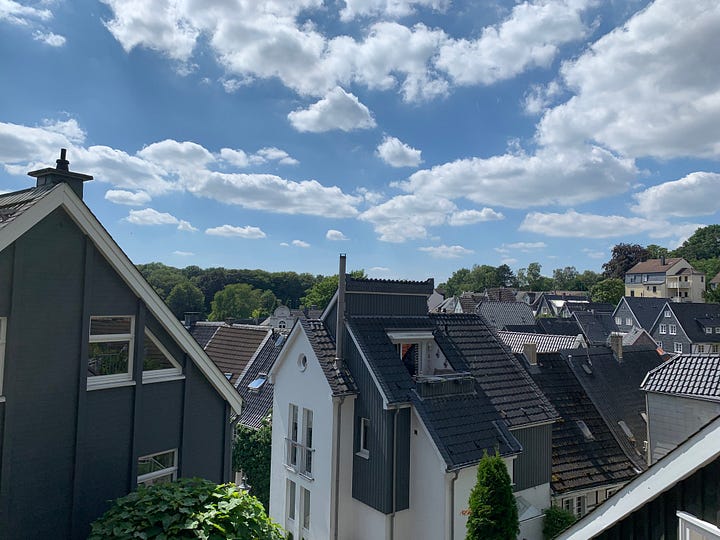 Hiking through Gräfrath Park
From there, we continued further up north and into the Gräfrath Park. The park is pretty much a forest and has a small pond at the entrance. Just a little past the pond is a playground, perfect for your little ones.
Ethan had fallen asleep in his stroller by then, so we just took a leisurely stroll through the park. Be aware that the entire park is a gentle uphill slope though, especially if you are also with a stroller or wearing your baby. The path was quite smooth so it was generally alright with the stroller but I did feel a little tired from the incline.
Missed opportunities: Tierpark Fauna and Bauernhof Meinsma
At the other end of the park is Tierpark Fauna, a pretty popular wildlife park with different animals and reptiles from various parts of the world. There are some domestic animals there which children are allowed to pet which can be a very fun experience for them.
As it was already quite late in the afternoon, we did not go in. However, at only €5 entrance fee per adult, this is definitely on our list of places to bring Ethan to.
We proceeded further towards Bauernhof Meinsma, in hopes of picking up some fresh vegetables from the farm. Unfortunately, the farm shop was closed when we got there. Contrary to what their Google Maps listing states, they are only opened Fridays and Saturdays.
Nevertheless, perhaps anticipating disappointed customers, they have automated vending machines there for buying some vegetables, potatoes, eggs, and even fresh milk (own empty bottle needed). We bought some L sized eggs from them as a consolation.
Other activities
We slowly made our way back thereafter as it was getting a little late and we were a little tired from all the walking.
If it is still early for you, there are other options to keep the day going:
Schwebebahn at Wuppertal-Vohwinkel: You're not too far from Wuppertal-Vohwinkel, where you can also hop on the Schwebebahn, one of the oldest electric suspension railways in the world, and certainly Germany's only. We brought Ethan to ride on the Schwebebahn in a separate earlier trip and he found it to be the most amazing thing ever. More on this in a future post.

Deutsches Klingenmuseum: Solingen is also known as the city of blades and has is known for producing high-quality knives and swords since the Middle Ages. Naturally, there would be a museum dedicated to the exact topic and you can find a big variety of knives, swords, and other bladed-tools on display in this museum.
This should be enough activity to cover one day in Solingen-Gräfrath! It certainly was for us. This is it for Gräfrath and I hope you found this post useful and interesting. If you want to get more family-oriented travel and activity ideas in Germany, then subscribe to this free blog and don't miss the next one!
Thanks for reading Lost Laksa! Subscribe for free to receive new posts and support my work.